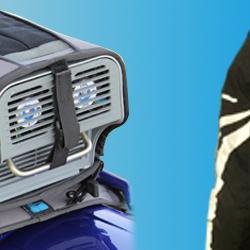 Installation is straightforward and easy.
Our motorcycle air conditioning unit can be easily mounted on most any rack or even on the back seat with our universal textile harness. It is very similar to mounting a tank bag. And you can simply take the unit with you or stow it in standard top cases or saddle bags.
The power is drawn from the bike's electrical system only. Connect the power cable directly to the battery. Note that you should check that your motorcycle's alternator is strong enough to power the A/C. Our current A/C model is designed for heavyweight bikes and is recommended for use on motorcycles with 500 Watt alternators at least. See the BikeAir User Manual for detail.